Yakima County Republican Liberty Caucus presents…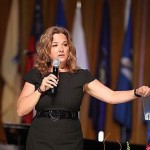 KrisAnne Hall
"State Sovereignty and the Duty of State and Local Representatives"
In this presentation, the origin of the Constitution and the Federal government is clearly explained. The unquestionable authority of the people through their states to be the final arbiters of their own liberty is laid out in a way that cannot be denied – unless you simply reject truth! You will see the solution that the framers gave us to keep a lawless federal government in check.
She will also be addressing sanctuary policies for illegal immigrants.
To learn more about KrisAnne, please visit www.krisannehall.com
Wednesday, May 10th, 7pm
Howard Johnson Hotel
9 North 9th Street
Yakima
Admission is free, but your most generous donation is greatly appreciated.